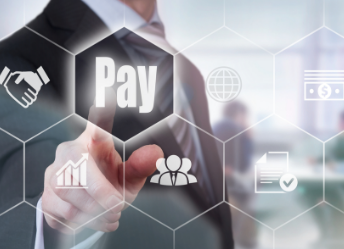 Duncan Andison/ Shutterstock
Job candidates are taking a firmer stand on salary disclosure, according to a new study.
The survey from job search engine Adzuna revealed that more than half of respondents (54 percent) said they "straight-out declined a job offer" after they found out the salary.
And one-third of job seekers "would not attend a job interview before knowing the salary the employer is willing to offer."
Sarah J. Platt, co-chair of the pay equity practice group at law firm Ogletree Deakins, said recently enacted laws in several large jurisdictions require transparency of some sort. The most aggressive of these laws are in Colorado, New York City, California and Washington state, which require employers to list pay ranges in job postings.
Other laws require disclosures to individual candidates at varying points in the hiring process.
"It is important for employers to be aware of the nuances and differences among the laws that may apply," Platt said. "With California's law signed last month, it seems the scales may be tipping in favor of more broad disclosure of pay ranges."
In California, effective Jan. 1, 2023, California employers with more than 15 employees are required to disclose a pay range in all job postings. Additionally, all employers will be required to provide a pay scale for an employee's current job upon the employee's request.
In Colorado, the "Equal Pay for Equal Work" Act requires all employers to disclose hourly or salary compensation, or a range of compensation, and a general description of any benefits and other compensation for each job, promotion or transfer opportunity in job postings.
The law also applies to any multistate employer that already has at least one employee in Colorado and is posting remote-work roles that might be filled by a Coloradoan.
Survey: Nothing More Frustrating
Twenty-eight percent of the respondents to Adzuna's survey said their biggest frustration when looking for a job is job ads that lack salary clarity or that don't include a salary at all.
Pittsburgh-based HR consultant Phyllis Hartman, SHRM-SCP, said recent talent acquisition challenges have many of her clients rethinking their policies.
"Most of my clients provide a pay range if candidates ask," Hartman said. "Some list the pay ranges in the job postings. I have been suggesting that this is a good move as it eliminates candidates who want a higher pay from applying and going through the whole process. It saves the company time and even some frustration for the candidates."
Hartman said it is often difficult to be exact about the pay (unless it is a fixed starting amount, as is often the case with union positions) because factors such as the experience level and the ability to hit the ground running soon after starting can impact the pay range.
Stacey Berk, founder and managing consultant for Expand HR Consulting in Rockville, Md., gave myriad reasons why companies big and small are challenged by the issue.
"The organization may not wish to disclose salaries," Berk said. "Their pay practices might not be evolved enough because they haven't created a consistent pay strategy and philosophy; established a band/grade system; conducted a recent pay study [such as a recent market pricing exercise, which compares internal equity to the external market via commercial salary surveys]; resolved inequalities; linked pay to performance; or formally trained managers and staff on pay practices."
Berk said changing policies often requires a mental shift among leadership, an investment in outside consultants to evaluate the pay structure and conduct the market study, and an increase in overall payroll budget.
"However, a lack of total transparency is unavoidable in the current recruiting environment where there's low labor participation combined with low unemployment rates and high-volume job openings," she noted.
A recent Visier survey showed that half of the 1,000 respondents have withdrawn themselves from consideration during a job interview or application processes because the pay that was revealed did not match their expectations.
The majority of employees (68 percent) say they would switch employers for greater pay transparency-even if pay was the same-and 41 percent of respondents have had a negative experience discussing pay with an employer.
Posting Pay Ranges 'More Complicated Than It Sounds'
According to Adzuna, 73 percent of job seekers think the workplace would be fairer if employers made salaries more transparent.
Hartman said being more transparent about pay "helps to build trust between the employer and employees, too. It also forces companies to make sure they are paying fairly for comparable work and performance."
Platt noted that posting the salary would make negotiations more informed and therefore more efficient, but positions eligible for remote work and high demand for workers make things tricky.
"However, posting pay ranges can be more complicated than it sounds," she said. "Especially in this age of increasingly remote work, the pay range may depend substantially on factors that remain unknown at the time of the posting.
"For example, geographic differentials may yield a very wide range if the employer must account for all potential locations. There is also the risk that the pay range for a new hire would be higher than for existing employees based on the current job market.
"That can cause employee relations challenges. It is also important to put infrastructure in place to ensure that pay ranges are consistent and the company is following a consistent practice in identifying the range."
Adzuna's research found that Washington, D.C., is the best area in terms of salary transparency, with 19 percent of job ads including salary, followed by New York at 6 percent and California at 5 percent.
By industry, charities (10 percent) are the most transparent, followed by trade and construction (5 percent). Retail (0.5 percent) and travel (1 percent) are the least transparent.
Most Employees Willing to Share Their Wage Levels
Adzuna also found that 86 percent of U.S. employees would be open to having their colleagues know how much they earn.
Gilles Raymond, CEO and founder of San Francisco-based videoconferencing and collaboration platform Letsmeet, said he's somewhat surprised by the figure.
"It is impressive to see that many employees are ready to share how much they earn, but it also means that one employee out of seven wants to keep it confidential," he said.
"Companies [tend to] have a grid that is supposed to guarantee a coherence in salary based on different criteria. Under these conditions, it is very positive for them to show the equity in their payroll policy," he continued. "But based on different cultures, talking about salary can be viewed as very sensitive information, and payroll based on where you worked can show a massive gap. Indeed, the compensation package between a software engineer in San Francisco and countries like India or Cambodia is 10 times [difference]."