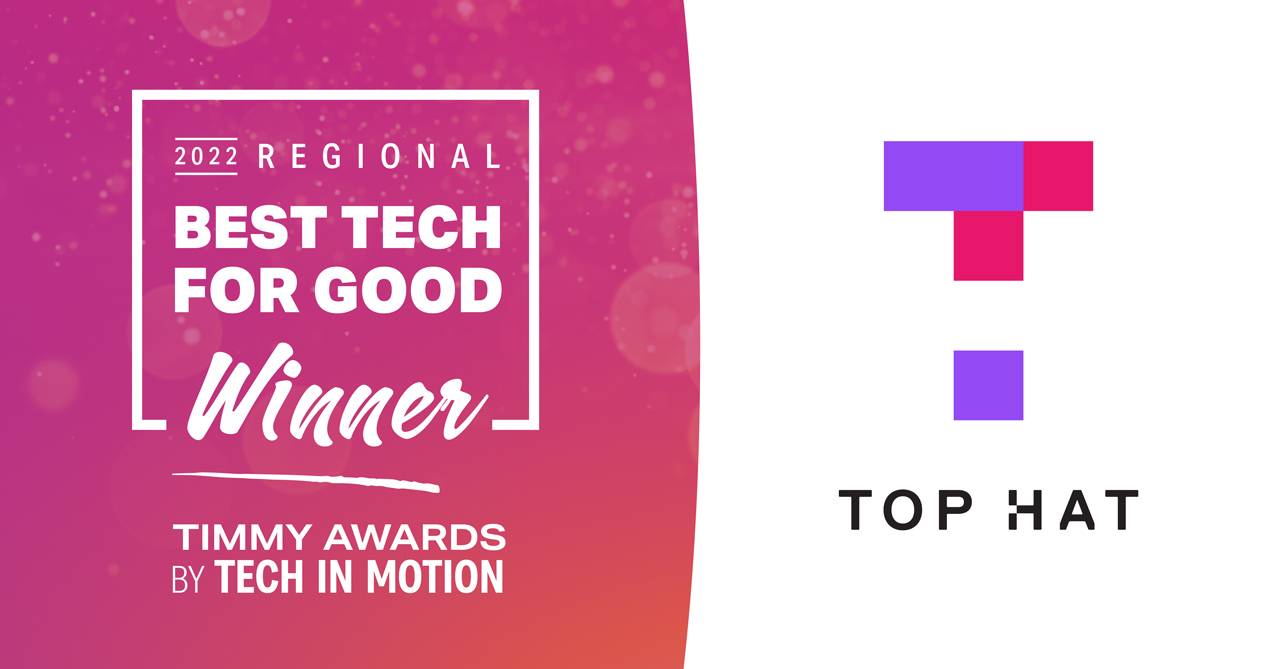 Timmy Awards recognizes top organizations leveraging tech to make the world a better place
TORONTO – October 14, 2022 – Tech in Motion has named Top Hat, a leader in student engagement solutions for higher education, as Toronto's Best Tech for Good in this year's Timmy Awards. The award recognizes organizations that are using disruptive technology to tackle today's most pressing social issues, including the drive to make higher education more accessible, inclusive and affordable. Top Hat was chosen based on a voting process that involved thousands of technologists from Toronto and across North America. 
"Our belief in the power of higher education to change lives is the driving force behind everything we do," said Joe Rohrlich, CEO of Top Hat. "This award speaks volumes about the commitment our incredible team of Top Hatters and customers demonstrate each day to ensuring as many people as possible reap the benefits of an inclusive, meaningful and high-quality university education."
Over the past year, Top Hat has made significant strides to help higher education scale efforts to improve student outcomes through more engaging, accessible, and equitable learning experiences. This includes empowering educators to tailor course content to reduce costs and better reflect the needs, interests and diversity of their students. Live polling tools, interactive readings, and discussions ensure that every student in every course is an active participant in the learning process. The Top Hat platform also generates timely insights into progress at a class and individual level so students receive the feedback and guidance they need to feel known, understood and supported. 
"Winners in the Best Tech for Good combine innovation and passion with the power of technology to try to improve their communities and the world at large," says Lindsay Lewis, Executive Director of Marketing at Motion Recruitment, Tech in Motion's creator. "It is a privilege to be a part of sharing those stories through the Timmy Awards and to highlight the tech that is helping overcome the world's challenges."
As well as Best Tech for Good, the 2022 Timmys include five other categories: Best Tech Startup, Best Tech Enterprise Employer, Best Tech Work Culture, Best Tech Workplace for Diversity and Best Tech Manager. Top Hat and other regional winners are contenders in the final North American round, judged by experts from across the tech field, including representatives from Fidelity Investments, Salesforce, Siri & Change.org, and many more. North American winners will be announced at the Annual Timmy Awards ceremony on November 10th, 2022. To attend for free or see all finalists, visit the Timmys website.
About Tech in Motion Events 
Tech in Motion is a North American events and community platform that brings local tech professionals together to connect, learn and innovate. What started as a passion project in 2011, by IT staffing and recruiting firm Motion Recruitment, grew into an organization of over 300,000 members across 14 chapters in North America including Atlanta, Boston, Charlotte, Chicago, Dallas, D.C, LA, New York, Orange County, Philadelphia, Phoenix, San Francisco, Silicon Valley, and Toronto. Visit www.techinmotion.com for more details.   
About Top Hat
Top Hat is North America's leading dynamic courseware platform, enabling educators to employ proven student-centered teaching practices through interactive content, tools, and activities in in-person, online and hybrid classroom environments. To accelerate student impact and return on investment, the company provides a range of change management services, including faculty training and instructional design support, integration and data management services, and digital content customization. Thousands of faculty at 750 leading North American colleges and universities use Top Hat to create meaningful, engaging and accessible learning experiences for students before, during, and after class.
Contact
Top Hat
Eric Gardiner
eric.gardiner@tophat.com
Tech in Motion Events
Lindsay Lewis
lindsay.lewis@techinmotionevents.com